Wall bars ROMANA Next Pastel (pearly white/gray)
Contact the seller to calculate the shipping cost for your country!
Wall bars ROMANA Next Pastel

Set includes: metal gymnastic ladder, moveable pull up bar, anti-slip and massage steps, gymnastic rings, trapeze and rope
Height - 223 cm



Dimensions - 86*85 cm
Ladders width - 49 cm
Step distance - 26 cm
Ladder diameter - 3,2 cm

Bars pipe diameter - 4,2 cm
Metal thickness - 1,5 mm
Bars and pull-up bar weight limit - 100 kg
Accessory weight limit - 50 kg
Ladders and bars - massage + anti-slip
Installation -

w

all mounted (c

an't install on a thin drywall, only on hard walls)




Mounting parts for attachment to wall - included

Delivered disassembled
Box weight - 24 kg
Made in Russia
This children's sports complex is one of the most favorite ones among the children and their parents. A real hit! It comes with a regulated crossbar — you can adjust the height of this feature. This allows kids to make their exercise more comfortable and safe. If the kids grow up — just change the height slightly.

The anchorages of this sports complex can be regulated when attaching the ladder to the wall. This allows avoiding the situations of "no space to attach". The installment doesn't take much space though. It is really compact.

Wall bars ROMANA Next allows being used by people with the weight of 100 kg. Nevertheless, it is also tested by 200 kg to ensure the safety of kids. They are really active while doing exercises and playing games.

There is a wide choice of colors for wall bars ROMANA Next - Next Pastel (pearly white/gray), Next Skyblue (sky blue/gray) and Next Grafit (dark gray/gray). You can probably pick the one that would suit the design of children's room in your house or an apartment. The attractive colors also play the role in the engagement of kids to the sports activities.

Try for yourself!
!!! Children from 3 to 7 years should train only under the supervision of parents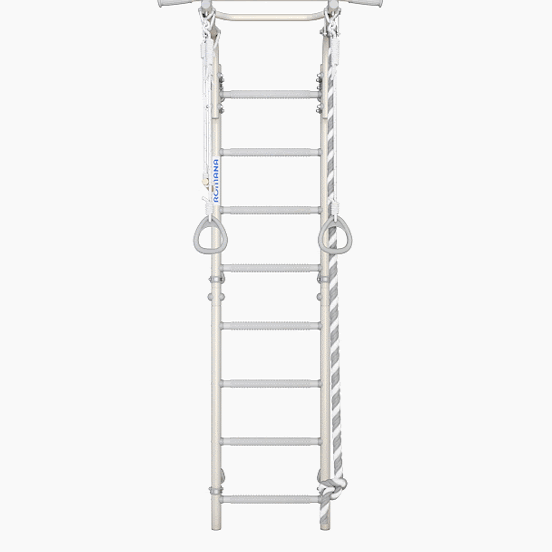 Extra info
Replace this text with some additional info. If there is no extra info, you can hide this text or hide this block by clicking the icon at the above right corner.